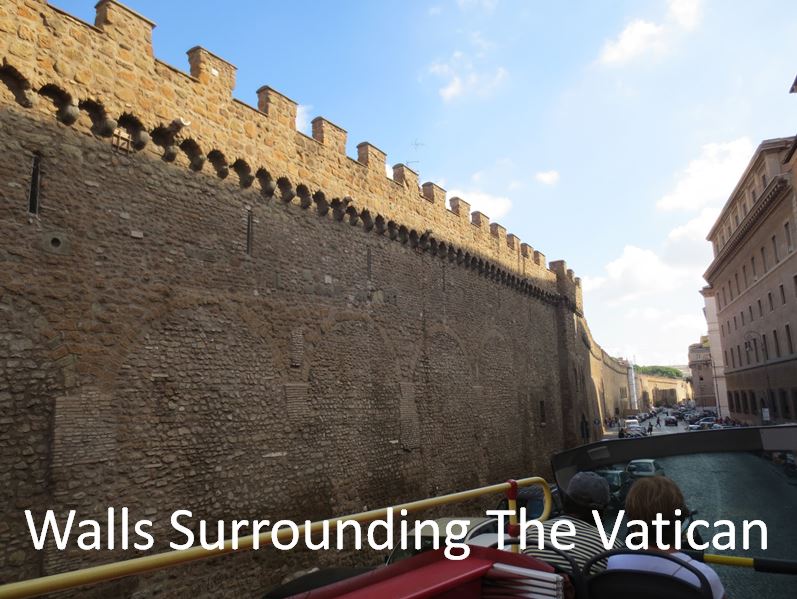 The pope's sovereign city-state, Vatican City,
is surrounded by giant walls.
Online Portfolio Websites
Artists - Photographers - Musicians Add Photo Galleries, Music & Videos
www.talkspot.com/Free_Websites
What's more, the walls were specifically built by a prior pope to repel Muslims.
History shows back in 846, Muslim raiders known as the Saracens looted Old St. Peter's Basilica and the Papal Basilica of St. Paul outside the walls. The pirates took priceless treasures from the shrines.
Shocked by the sack of some of the most sacred sites in Christendom, Pope Leo IV created the Leonine Wall, completely surrounding the Vatican Hill. Additional defenses were added in the 15th and 16th centuries.
Commenters on social networking, including GOP president frontrunner Donald Trump's social media director Dan Scavino, mocked Pope Francis' attack on Trump by posting pictures of the large walls surrounding Vatican City. But some critics saw a more sinister design at work.
Pamela Geller, a world-famous activist against Islamization and a
WND columnist,
slammed the pope for his advocacy of open borders policies in both Europe and the United States.
"He's a hypocrite," she charged. "If he is sincere, let him tear down the Vatican walls and admit Muslim migrants in unlimited numbers. Some can stay in his luxurious apartments. Until he does that, he is exposed as a self-righteous leftist hypocrite."
Geller, the author of
"Stop the Islamization of America,"
called the pope's actions "unconscionable as well as one-sided."
"When has he ever called out Hillary or Bernie Sanders for their un-Christian support for abortion?" she asked rhetorically. "The church supposedly opposes that and has opposed it for longer than it has been in favor of absolutely open borders and the suicide of the West. It appears as if the pope has abandoned all pretense of being a spiritual leader and has become instead an eager advocate for the far left's political agenda."
The Vatican attempted to walk back the pope's attack, which came against Trump, on Friday, with a spokesperson
saying,
"In no way was this a personal attack, nor an indication of how to vote."
However, Dr. G.M. Davis,
the author of "House of War: Islam's Jihad Against the World,"
argues the pope's reputation has already been damaged.